Caravan Park Map and Terms & Conditions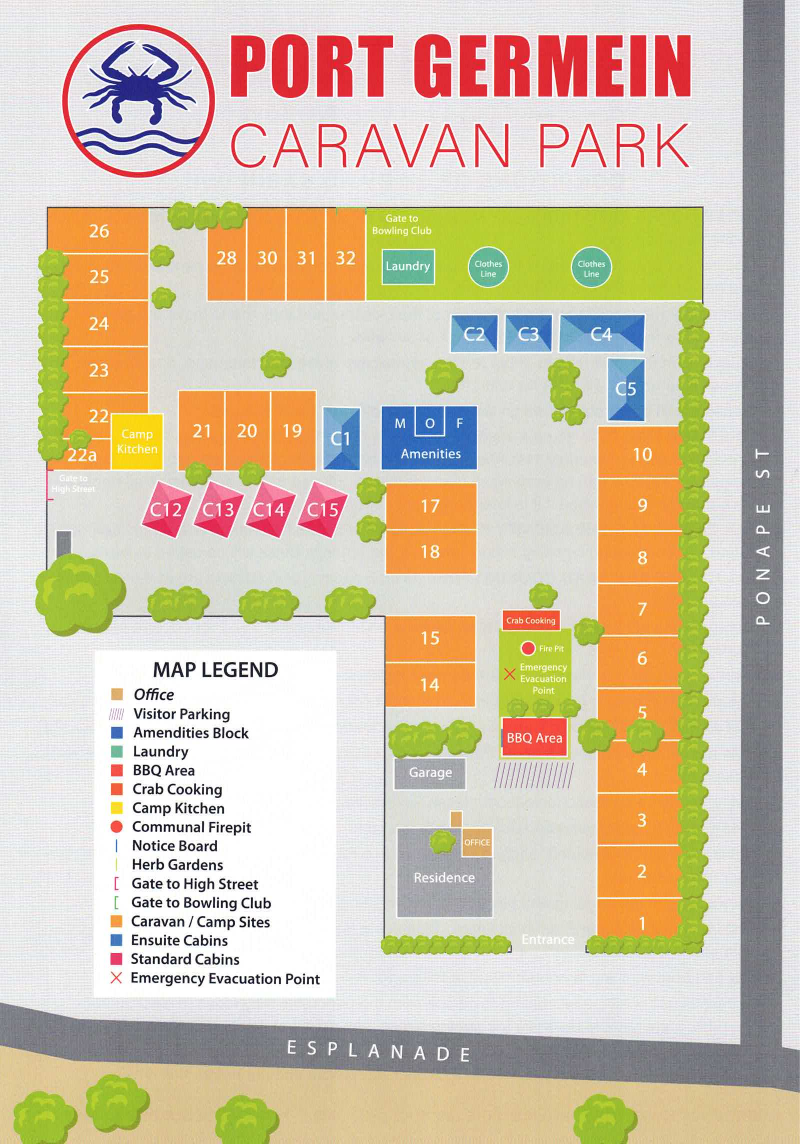 Terms and Conditions
AFTER HOURS
For the comfort of other guests, we ask that noise be kept to a minimum after 10pm. Port Germein Caravan Park Management are accessible 24 Hours a day for Emergencies only.
ALLOCATION
Though Management will do their best, specific accommodation or sites cannot be guaranteed.
ARRIVAL / DEPARTURE TIMES ARRIVAL TIME
Check-In time is from 2pm for Cabins and Site Check-In time is from 12pm. Prior arrangements must be made with Management for late arrivals after 6pm (7pm during Peak Periods).
Check-Out must be by 10am on day of departure (unless prior arrangement has been made with Management). Additional fees will be Incurred and this is subject to availability.
BEHAVIOUR
Port Germein Caravan Park reserves the right to immediately evict any guest, visitor or member of the public for any anti-social behaviour, including but not limited to: possession or use of illegal drugs, wilful damage to Port Germein Caravan Park property, theft, physical or verbal abuse of staff, other guests or the public. In the event of an eviction, all money held or due will be forfeited and the registered guest will be unable to make future reservations at Port Germein Caravan Park.
COVID-19 CANCELLATION POLICY
Notwithstanding rights under Consumer Law, guests will have the option to select a new date for their existing booking or accept a credit valid for up to 12 months should any of the following criteria impact their planned stay:
You or an immediate family member becomes sick with COVID-19;

You are forced into self-isolation;

You are awaiting the results of a COVID-19 test;

or

A State Government or Commonwealth Government directive is issued and means you are no longer able to travel to or from your destination.
Any difference in booking value will be adjusted accordingly. To request either a change to booking dates or to receive a credit for a future booking in relation to COVID-19 cancellation policy, you are required to email or telephone the Port Germein Caravan Park directly.
To utilise this policy a guest must:
Have made the booking directly with the park;

and

Provide proof of COVID-19 impact as listed above where possible.
Any cancellation which is deemed not applicable to the COVID-19 Cancellation Policy will need to comply with the parks usual terms and conditions. Including:
If you no longer wish to travel due to concerns about COVID-19, this will be treated as a change of mind;

If you have a health condition whereby you are a higher risk, we will amend your booking for a later date;

No credit or refund will be available for early departures once arrived.
CHILDREN
Children 5 and under are free of charge for sites only, however there will be a charge for all ages in cabins unless the use of a cot if required (which will need to be provided by guest).
DAMAGES / LOSS
All registered guests shall be liable for any loss or damage to the appliances, furniture, keys, fixtures and fittings in the accommodation. Fair wear and tear excluded. A fee may be charged if excessive cleaning is required after departure.
FIRES AND FIRE PITS
We do not allow fires or fire pits on your allocated site; we have a communal fire pit located in the BBQ area. (Generally, 15th April – 1st November, but this can change without notice due to fire dangers). Fire must be kept within the perimeter of the fire pit and no rubbish is to be placed in the fire pit at any time. Please see staff at reception to light Fire pit. This will be at the managers discretion due to weather conditions. Guest is responsible for the safe usage of the communal fire pit. Please note -We reserve all rights to have a fire extinguished if it is interfering with surrounding sites.
FORMS OF PAYMENT
Payment is accepted by cash, Visa, Mastercard or EFTPOS. Direct Debit will be accepted only if received 10 working days, prior to arrival.
GROUP BOOKINGS
Additional terms and conditions may apply to group bookings.
LINEN
The tariffs quoted include linen for each bed booked and paid for.
MINIMUM BOOKING PERIODS
Minimum booking periods may apply over school holidays, weekends, long weekends and selected special events.
MAXIMUM NUMBERS PER ACCOMMODATION
The number of people accommodated in each unit must not exceed the number of beds available.
POLICE AND SECURITY
In the event of an eviction (see "Behaviour" section above) Port Germein Caravan Park management reserves the right to engage Police or private licensed security personnel at their absolute discretion if an evicted person does not leave as and when required. You agree by agreeing to these terms that Police and private licensed security may use reasonable force to remove persons and their belongings from Port Germein Caravan Park. The cost of private licensed security, and any necessary storage of belongings, will be charged direct to the credit card used at the time of check in. You undertake to comply with any lawful direction of Port Germein Caravan Park Management, Police or private licensed security. We may show these terms and your approval of same to Police or private licensed security as required.
PERSONAL BELONGINGS
Port Germein Caravan Park takes no responsibility for the loss or damage of any personal item. Remember to lock your cabin or caravan when not occupied. Also lock your vehicle and remove any valuables; parking is at your own risk. Thoroughly check the accommodation before departure as any items left behind may not be recovered.
PET POLICY
Port Germein Caravan Park is a Pet friendly Park with a maximum of 3 pets per site. Pre-Approval (excluding service animals) will be needed for any pets in Cabin Accommodation. This will include a once off $20.00 cleaning fee on top of accommodation cost.
Pets are strictly Prohibited from all Park Buildings and Ablution Blocks.
Pets must remain on a reasonable length leash, controlled and supervised at all times.
Pet faeces must be collected, bagged and placed in rubbish bin
PRICES
All prices quoted are in Australian dollars, are inclusive of GST and subject to change without notice due to seasonal and other variations. Prices are based on two persons occupying accommodation and sites; extra person rates apply for each additional person.
SERVICING
Accommodation is serviced weekly, commencing on the 7th day after arrival.
SMOKING
Port Germein Caravan Park is non-smoking in any communal areas and buildings. By law, it is prohibited to smoke inside or within 5 metres of any public building. Smoking inside your accommodation will incur a minimum fee of $100. Ashtrays are provided outside every cabin.
VISITORS OF PARK GUESTS
All visitors of park guests must report to reception on arrival before entering Port Germein Caravan Park. All visitors are to exit the Park before the 10pm quiet time comes in affect each night.
Terms and conditions are subject to change at any time.