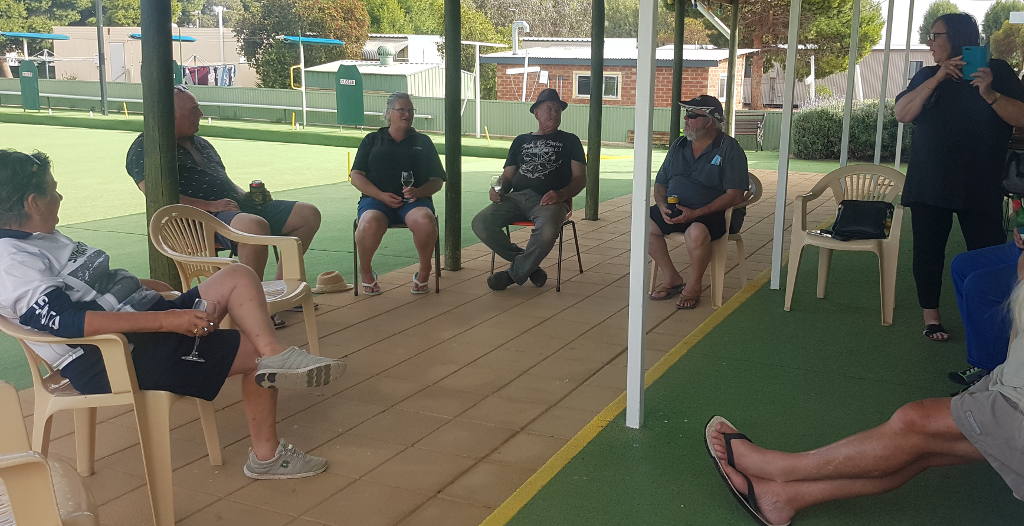 Community Facilities
Free foreshore BBQ's
Located on the Esplanade, either side of the Historic Goods Shed
Childrens Playground
cnr High St and Esplanade
Adult exercise equipment
cnr High St and Esplanade
Port Germein Community Church
22 Rydberg Street
Services Sunday 9.15am
All welcome
Enquiries to Marjorie Johns 8634 5371
Sports Clubs
Bowling Club
Located at rear of Caravan Park through gate to Havers Avenue
Licenced Bar open from 3.30 Wed, Thu, Fri and Saturday home games
Thursday Afternoon Social Day
Bowls, mats and jacks available in cupboard on verandah
All guests welcome for a free 'roll up' anytime unless competition games are being played
Pennant days are Wed, Thurs and Saturday October through to March
Golf Club
south on Highway 1
Golf season April to September.
Club competition Satudays, tee off is 10.30 to 12.00 noon and visitors are welcome
To play in the club competition or to go out for a round is $5 per person.
The course is open year-round for players with an honesty box on the first tee.
0411 838 062
Tennis Club
located on High Street
Practice Areas
Cricket nets and Basketball Courts
located behind Tennis Club
Shopping
Red Post Shop Café
General Store, Post Office, Coffee Shop, Bait, Ice, Snacks
13 High Street
Mon-Fri 7.00am to 5.30pm
Sat and Sun 7.00am to 12noon
08 8634 5252
Community Op Shop
Clothes, Books, Bric a Brac
at the Community Hub
Cnr Pederson and Karpfanger Sts
Sun and Wed 10-1pm
Eating Out
The Van
Takeaway Food – Fish and Chips, Burgers, Snacks, Drinks
Open various hours
Port Germein Hotel
Food and Drinks
15 High Street
Open 7 days
0417 153 453
Red Post Shop Café
Coffee, Sandwiches, Pies and other Snacks
13 High Street
Mon-Fri 7.00am to 5.30pm
Sat and Sun 7.00am to 12noon
08 8634 5252
Harrys Homemade Fine Food
Takeaway Burgers, Pizzas as well as grocery items
15km South on Hwy 1
Closes 7pm
08 8634 4042
The Tin Man Roadhouse (Perrys)
Takeaway Food
20km South on Hwy 1
Closes 11pm
08 7120 6972
The Flinders Rest Hotel
Food and Drinks
Warnertown 27km South on Hwy 1
Open 7 days
Courtesy Bus available for 6 or more people
08 7078 4412
Repairs
Germein Rural Traders
Germein Road
HP Automotive
Kobenhavn Street
Vehicle Repairs
Emergencies
Police
43 Esplanade
Port Germein
8634 5219
Hospital
The Terrace
Port Pirie
8638 4500